Seven Best Practices for A Successful Trade Show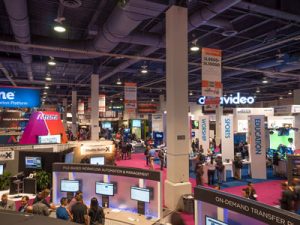 Trade shows are tremendous opportunities for your company to raise its profile among attendees who are looking for the products and services you offer. Leverage the event to your advantage by following Pacific Color Graphics' seven best practices for a successful trade show:
Quality booth design and placement. Your booth reflects your company, so it should be well-constructed and prominently display information that you want attendees to notice immediately. Strategic placement of trade show booths is a science in itself. Secure high-traffic spots such as main aisles, corners, near entrances, food courts and seminar rooms.
Booth personnel should be well-trained and in recognizable company gear. Assign only the most personable, knowledgeable salespeople to staff your booth and make sure they wear clothing with your company logo at all times.
Professionally designed handouts. Busy attendees want facts quickly, so handouts should include informative graphics, text that is to-the-point, and referrals to your website or landing pages that provide more details on your products or services.
Use video and demonstrations. Videos are relatively inexpensive to produce, visually engaging and can be additionally used in social media, on your website or in emails as well. Demonstrations enable attendees to see your product in action and ask questions directly.
Be prepared to quickly collect leads. Implement software that enables you to scan business cards, trade show badges or smart phones without inconveniencing attendees. You'll have all your leads in one easily accessible device for reference later.
Give away creative promotional items. Come to the trade show well-stocked with promotional products. They are effective at exposing your brand long after the trade show. Choose giveaways that your target audience finds useful and appealing, and that are relevant to your company.
Follow up after the show. A formal campaign to follow up on leads can reap big dividends. Turn leads over to the sales department immediately after the trade show. Potential customers respond better to followup emails that offer options, such as several specific calls to action instead of just one.
Pacific Color Graphics is a full-service marketing partner that provides services before and after the trade show. Call 888-551-1482 today for more information on trade show booth design and production, design and printing of sales materials, promotional items, and more.