How POP Advertising Affects Sales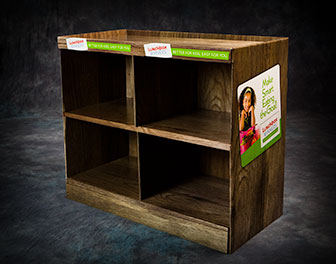 Both market research and common sense indicates that Point of Purchase (POP) advertising affects sales positively when executed effectively.
How often do you decide which brand to buy while scanning products on the store shelf? Although studies vary as to how frequently this decision is delayed, it's safe to say a high percentage of consumers make their choices at the last moment.
That's when savvy marketing takes command.
Get An Edge on Your Competition with POP Displays
Your company can get an edge on competitors with compelling POP, or point-of-purchase, displays that are instantly persuasive yet capable of creating customers for life.
As a digital printing and marketing business, Pacific Color Graphics creates all types of retail-level POP displays designed to increase the chances of your product being selected by a shopper. Our POP displays boost sales by:
Raising awareness of your brand. Our team of marketing experts makes sure your product doesn't get lost on the shelf. We know how to catch and hold the attention of busy consumers.
Establishing your brand's identity. Target buyers with colors, graphics, fonts and text that deliver an appealing message. Pacific Color Graphics also recommends creating distinctive packaging designs that reinforces that identity.
Communicating the superior value of your brand. Emphasizing points of difference between your product and your competitors' is powerful, particularly if your brand isn't necessarily the least expensive.
Pacific Color Graphics has the capability to produce virtually any type of POP display, from end caps to floor stands to power wings. Compared to other forms of advertising, POP displays are inexpensive and a cost-effective use of your marketing dollars.
Imagine the ways Point of Purchase displays can work for your brand with the help of Pacific Color Graphics. Call us today at 925-600-3006 to set up an appointment with one of our customer specialists.