Get Noticed With High-Tech Wearable Promotional Product Ideas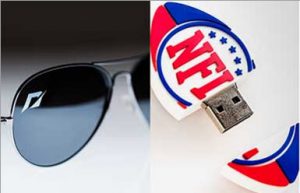 Conventional promotional items such as caps, T-shirts, pens and tote bags have long been one of the best ways to expose your brand. Add high-tech wearable items to your list of promo products and you've taken this tried-and-true marketing strategy to a higher level.
Pacific Color Graphics can print your logo or message on just about anything, including sought-after high-tech promotional items. Your company should target wearable high-tech promotional items for the portion of your audience that is appreciative of modern technology.
These high-tech promotional products are affordable and make a strong impression as a giveaway at trade shows, corporate gatherings, or any type of event:
Fitness-tracker watches. Lightweight, water-resistant watches run on rechargeable batteries and track the wearer's number of steps taken, calories burned, heart rate and other types of activity. Smartphone apps, most of them free, are synchronized to function with the watch. A fun way to help anyone reach specific fitness goals.
Virtual reality headsets enable the user to download 3-D virtual reality apps on a smartphone and view them through the headset. The headsets are one-size-fits- all and are compatible with all types of phones. Made from cardboard to flexible plastics, they make for great field marketing items.
USB necklaces are a fashionable, classy way of wearing a flash drive. A fingernail-sized drive is attached or embedded into any type of necklace and easily is removable and ready to plug into your computer or phone. USB cufflinks serve the same purpose for guys.
Smartwatches do what your smartphone does, only from the wrist. These watches connect to smartphone or bluetooth technology and make it easy to see messages, email, and other notifications at a glance. And they also tell the time.
The wearable high-tech staple, earbuds, also remain popular in different colors, promotional boxes and designs. Custom branded computer bags, backpacks, sleek sunglasses with tech prints, and phone covers are also coveted promotional items for the high tech audience.
The list of possible wearable promotional high tech items is nearly endless! Speak to one of our custom promotional item specialists today at Pacific Color Graphics – 888-551-1482.