Promotional Products Stores
Promotional Product Stores for Your Company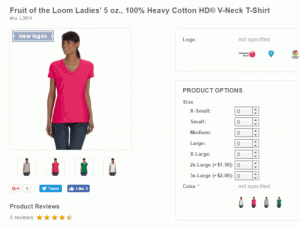 Internal promotional product stores, a.k.a corporate merchandise sites, offer valuable online support to your business's marketing efforts with convenient access to branded merchandise, 24/7.
As your full-service marketing partner, Pacific Color Graphics sets up and manages easy-to-use promotional product stores that look and function much like a conventional online retail site – for your own promotional products, swag, give-away's, branded clothing, and even printed marketing materials. Since the store is mobile-friendly, employees will be able to make purchases from any device, any time, anywhere.
Once your orders are placed, the Pacific Graphics team also provides complete fulfillment and delivery services for the products in the store!  There is no hassle of trying to maintain stock internally, we do it for you!
The use of promotional products is a favorite way for companies to showcase their brands and remind prospective customers to think of them when making buying decisions. One key to successful corporate events, trade shows or other brand showcase opportunities is to provide attendees with items such as hats, caps, jackets, or other clothing with logos, messages, and graphics.
Customizing your promotional products store with any of these features ensures a great shopping experience for your employees:
Complete store management. Easily monitor every order, payments, shipping, and other product details. Precision tracking of every product in the store means that the system will issue notifications when supplies are low, so you'll never run out of an item.
Permission technology. You can keep a handle on expenditures by controlling who has access to the store, particular categories or certain products.
A points system and other incentive programs provide recognition for employees who are particularly adept at using the store to raise the profile of company brands.
Personalization options. Virtualization technology enables users to mix and match logos and graphics, then see what a customized item will look like.
Also, enabling your own employees to purchase their own branded shirts, jackets, key chains and more on their own time reduces the need for a physical shopping location, inventory, or an internal manager responsible for upkeep and ordering.
Our team can also tailor the look and functionality of your promotional product store to closely reflect your company's personality.
Call 888-551-1482 today to learn more about the online promotional product stores installed and managed by the marketing professionals at Pacific Color Graphics.