Outsource Your Online Company Store
Keep Your Focus – Outsource Your Online Corporate Merchandise Store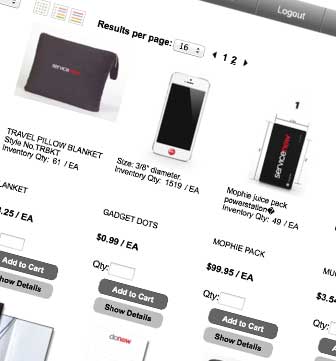 To stay competitive, it makes sense to outsource your online company merchandise store to a reliable resource who can manage, stock and report when you don't have the resources to do it yourself.
Today, companies of all sizes view online stores as indispensable to their marketing efforts. Equipping employees and associates with the ability to easily order specialized materials – signage, trade show materials, promotional items such as clothing and sporting goods – via an intra-company website saves time and money.
Try Our Online Demonstration Stores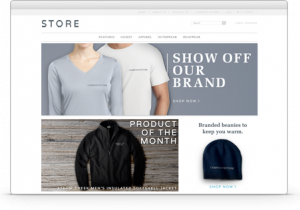 Full Featured Company Merchandise Store
Sleek design and packed with all of the features your employees have been asking you about.
Minimal Theme Company Store
Focus on the products and the brand in this modern and stylish theme.
But managing the site, as well as warehousing merchandise and handling fulfillment duties, often forces a company to stray from its core business. Trusting an external team to launch and maintain your online company store provides you with a potent marketing mechanism without incurring any of the management or fulfillment headaches.
When you outsource your online company store, be sure they can handle:
Website design, launch and management. Only via a thorough review of your own branding and internal culture can an external resource provide an online company store that is user-friendly and customized in appearance and function to your specifications. Oh yea, and they need to be certain it operates as it should, all the time!
Inventory management. When it comes to the operation of an online company store, processing orders is only half the equation. Managing merchandise prior to shipping is a sizable undertaking for even large companies, which is why warehousing responsibilities are increasingly being handled by third parties. The right fulfillment partner will save you the expense of maintaining a facility to manage the stock for you!
Regular technology updates. Cutting edge technology keeps your online company store as user-friendly, functional, and efficient as possible. By choosing the right company store partner, you can be assured that they vigilantly monitor the latest technological trends and incorporates them into your online corporate merchandise store with no disruption in service.
Outsource Your Online Company Store to the Pros
Consider outsourcing your online company store to Pacific Color Graphics – we try to make it an easy process.
We consider the website to be a collaborative effort, so our marketing experts work closely with you and your employees at each stage of set-up. Pacific Color Graphics also provides full training so the online store is implemented to its full potential.
Looking to outsource your online company merchandise store? Call us, we are a full-service digital printing and marketing business who knows how to do it right!