Build Employee Morale with Company Swag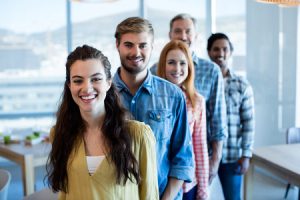 Building employee and customer morale using company swag is easier than you imagine. Pacific Color Graphics creates and manages internal online corporate stores that serve as clearinghouses for businesses' promotional items. Through such a store, your employees have access to a selected variety of products that feature your company's logo, message, slogans, colors and graphics.
An online company store is the ideal outlet for supplying your employees with items that keep your brand exposed. Combined with social functions that focus on employees and their families, the stores will bolster company morale and express your appreciation for employees' everyday contributions, so vital to the overall success of your business.
And your business will save money and headaches by having Pacific Color set up and manage the site and deliveries. Employees using the site can have their departments assigned for easy allocation and budgeting. Access is easily managed and controlled.
We design, create and fulfill the swag orders too!
Pacific Color Graphics will design, create and fulfill all of the products for you, ensuring commitments to quality, delivery and pricing. Your team just goes online to the company store, orders what they want, costs are assigned to your budget centers, and we build and ship. It's that easy.
Providing employees with products via an online company store does not replace a bonus or increase in salary, but employees still appreciate free swag.
Promotional items are so popular that many companies substitute more traditional work clothing with imprinted shirts, hats and caps that serve as an informal work uniform.
Events that Crave Promotional Items for your Team and Clients
Here are just a few of the instances in which company swag can bring your team together:
Volunteer events. Serving a holiday meal to the homeless is a terrific way to instill pride while doing good. A side benefit: employees who wear polo or t-shirts and caps with your logo during the event spread the message that the people who work for your company have big hearts.
Sporting events. A bowling night, golf tournament or fun run enables your employees to bond with each other outside the office. Gear from your online company store used during the event, including water bottles, mini-towels, sweatbands, shirts, and balls, keep memories of the event fresh.
Team-building exercises. These exercises can range from a lunchtime ping-pong tournament to weekend-long retreat. Employees who order tote bags, pens and pencils, and thumb drives for the exercise can continue to use the items after the exercise is over.
Picnics, potlucks, or dinners. These informal get-togethers can be planned for a workday or as a special outing for employees' and their families. Koozies that keep your drink cold, cups, mugs, and visors to keep the sun away are all perfect giveaways for these outings.
Call Us for Corporate Store and Promotional Items Info
Learn more about how promotional products and online corporate stores build employee morale. Call a Pacific Color Graphics team member today at 888-551-1482.