Add an Internal Company Store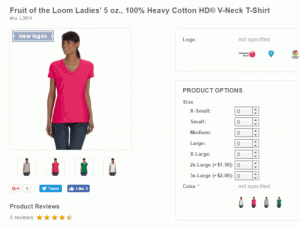 If your business needs better control of marketing expenditures, consider adding an internal company store this year.
With help from the professionals at Pacific Color Graphics, it's easier than ever to set up, install and implement an internal company merchandising store. We take care of the details while you reap the benefits of a convenient, simple-to-use online store that puts promotional materials and products at your employees' fingertips.
How an Internal Corporate Store Works
An internal, online corporate store is a web-based solution to purchasing and distributing promotional marketing items such as totes, wearables, sporting goods, office supplies and household items.
Our team manages orders and shipping of promotional products in much the same way as any online store. Your company has final approval of the website design and the entire inventory. Orders and expenditures are easy to track.
Discounts, special promotions and employee incentive programs can be set up with a few keyboard strokes. Access can be restricted to specific employees or managers, if desired, and software can be quickly upgraded.
The Benefits of An Internal Corporate Store
Let Pacific Color Set Up, Manage and Fulfill Your Merchandise Program
Here's what your business gains by using a Pacific Color Graphics internal company store:
A consistent message. Through a Pacific Color Graphics online store, your employees utilize a centralized source for promotional products. Each item comes from a reputable manufacturer and bears logos, colors and quality consistent with the standards of your business.
A streamlined process. Instead of navigating a fragmented purchasing process that may cross over several departments, employees and even customers have easy access to a single source for marketing goods. Businesses with several locations have no problem accessing the same promotional items.
Cost reductions. An online store automates purchasing and distribution, eliminating the cost of many administrative duties once associated with the marketing of promotional products.
No storage headaches. There's no need to find a place to store marketing materials and products when you buy in bulk. Storage and fulfillment is handled off-site, which eliminates another expense connected to old-fashioned promotional practices.
If improving employee productivity and cutting costs is a goal for your business, then adding an internal corporate store this year should be New Year's Resolution No. 1. Call 888-551-1482 today to talk to a Pacific Color Graphics expert