Company Merchandise Stores Save Time and Money
Company Merchandise Stores are a Powerful Brand Promoting Tool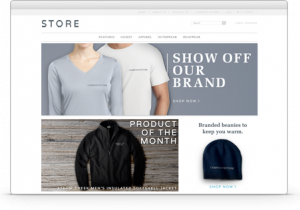 Have you ever received marketing materials from a printing company, only to discover that the colors and logo were different from your originals? This happens all time. Unfortunately, it's difficult to get visual elements, color schemes, etc. perfect when you use multiple printing companies and suppliers.
Having a consistent brand image is extremely important, which is why many companies choose to use a dedicated supplier to print and manage their marketing materials and promotional items. There are advantages to using a single supplier, but an even better option is to have a company merchandise store.
With your own store you have control over your branded materials and can manage even the largest company's demands for internal employee swag, trade show banners, printed materials, brochures and innovative marketing materials – all from one place.
What is a Company Merchandise Store, Exactly?
A company merchandise store is an online store – dedicated to your employees, vendors and / or others requiring regular access – that carries all of your branded products, such as promotional items, employee swag, printed materials, marketing materials, trade show items, and more. Everything is in one place and pre-approved by you, so you never have to worry about inconsistent branding.
Everyone within your internal company can use your online company store. Let's say that one of your teams needs to order brochures for an upcoming networking event. All they need to do is choose one of the brochures from your store, customize it with the information and order it. This saves time and money for each of your departments.
What are the Benefits of Having a Company Store?
An online merchandise store for your business will:
Save your time and money
Help you manage spending
Shorten production times
Result in lower pricing on your branded merchandise
Give you control over your branding
Incentivize your employees
How to Set Up a Company Merchandise Store 
Setting up an online shop for your business is easy with Pacific Color. We do the full setup, which includes department identity, users, product selections, warehousing and delivery. With ample experience managing company stores for various businesses, we know what makes these intra-company stores successful.
Here are a few things you can expect from us:
Pacific Color manages the company store, fulfills AND delivers where everything needs to go
Innovative Employee recognition programs
The ability to expand inventory at any time
Upgrade the site's functionality at any time
Everything is fully managed by our staff
You get a completely unique store that matches your brand – available only to who you say can use it
Request your free demo today from Pacific Color Graphics and discover the benefits of having your very own company merchandise store.