AT&T Cafecito In-Store Promotions for Hispanic Heritage Month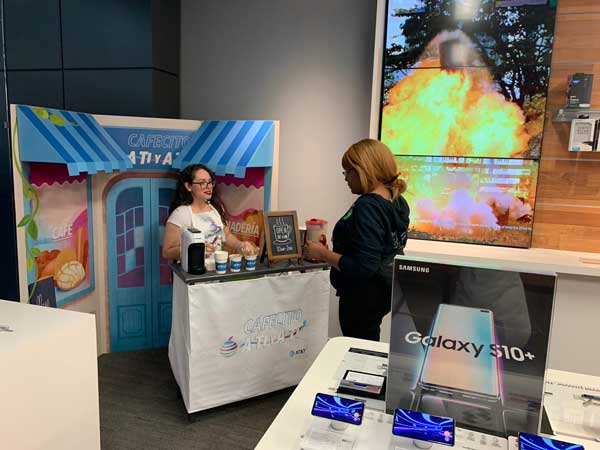 The Pacific Color design team recently helped AT&T bring its "Cafecito A Ti Y A Ti" in-store promotion to life for Hispanic Heritage month, recreating the cafecito experience for shoppers nationwide. To reflect Hispanic culture and community, Pacific Color personalized the project for each region, creating large-format displays that welcomed customers in each of the 25 locations that AT&T services in Los Angeles, New York/New Jersey, Miami,Houston, and Chicago.
Recreating the Cafecito Experience
Emulating the time-honored cafecito tradition and AT&T's "A Ti Y A Ti" message, the displays designed and produced by the Pacific Color crew for the multi-platform campaign feature a countertop amidst a backdrop reminiscent of a neighborhood coffee shop. The inviting retail displays welcomed the Hispanic community to enjoy a free cafecito and a pastry, served by AT&T staff donning custom-designed, barista-style aprons to enhance the effect.
In deference to AT&T's understanding of the Hispanic culture, which includes over 21 unique nationalities, the displays and offerings at each location varied, based on the distinct culture of each region. Treats served included espresso and pastelitos in New York and Miami, and Café de Olla and pan dulce in Houston, Chicago, and L.A. To boost attendance and brand recognition, each market also advertised the event via its own Instagram handle, with support by relevant regional micro-influencers.
Reaching into the Past to Support the Future
Cafecito and a snack is a time-honored tradition in Hispanic society, bringing people together for generations. For over 50 years, AT&T has offered a broad range of programming, communication, retail, and call center support to the Hispanic community. With the aid of this recent Pacific Color design, the company continues to illustrate how AT&T understands, supports, and services the culture, and is the company for them, helping them stay connected with their heritage and sharing it with others through the Cafecito campaign.
Pacific Color Graphics brought Cafecito in-store promotions for Hispanic heritage month to life for AT&T. How can we help you breathe life into your upcoming project? Contact the Pacific Color Graphics team to learn more about our complete in-house design and marketing services today.