Best Practices for Virtual Meetings and Events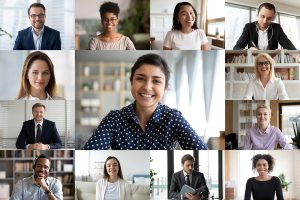 At Pacific Color Graphics, we've helped companies nationwide plan thousands of successful, memorable trade show events and employee gatherings. However, with the coronavirus pandemic the typical tactics won't work, leaving some of our customers struggling to adjust to a rapid shift to the virtual realm. How can you make the same impression with an online event? Our seasoned team has the tips you need to shine with these best practices for virtual meetings and events.
Making the Shift to Virtual Events
From city council meetings to large tech giant trade shows, in-person gatherings have been shifting to the digital realm. What was initially a contingency plan, experts now foresee as the future of the event industry. This change poses a unique challenge for businesses attempting to convey content and make a personal connection with customers and employees. How can you help employees or attendees feel like part of the group despite "attending" these events from home?
Plan for Success
When planning your virtual event, identify your goals in advance. What would you like attendees to take away from the experience? Consider information and education, compiling a list of potential elements. Should you use a Q&A session or engage in some form of social networking to convey your message? Recognizing your online event will not be the same as a live show is crucial. Creativity is key to meeting virtual event challenges. You must craft your message around the medium upon which you are introducing it.
Consider Your Audience and Budget
Consider the cost and complexity of live versus pre-recorded events. Live-streamed events are more engaging, particularly those including interactive games, questions, and polling. While you can host these with a simple web camera, professional results may require a themed booth or large format display, as well as a small production crew, demanding a more expansive budget. If your event lasts several days, you can multiply these costs. Pre-recorded event programming costs far less but loses interactivity. Weigh your budget, considering the cost and end goals of your event, and how your choices might affect your income stream to determine your best course of action.
Engage the Audience On-Screen
To connect with the audience on-screen, you must be more engaging than during live events. Pacific Color can help you choose and create the right setting to reflect the mood of your event, from traditional professional backgrounds to entertaining and even humorous options to help you better engage attendees. Pair our eye-catching designs with a lively presenter, choosing a host who reflects the dynamic of your theme, one with great personality and showmanship who can acknowledge this new, unique situation and bring everyone together in the moment.
When presenting content, be sure to break it into digestible, 15-minute segments, avoiding lengthier monologs to retain the attention of your attendees. Mix your content with other elements to keep viewers engaged, commenting about upcoming event programming, live events Q&As, audience polls or games to keep the audience's interest.
Check Your Tech
Before registering attendees or posting a schedule, make sure your site can handle the traffic. It is common for websites to crash when too many users login at once. Separate your event into multiple sessions or groupings if necessary, to avoid a poor turnout due to technical glitches and user frustration.
Encourage Networking
Just because attendees aren't physically face-to-face doesn't mean that networking is impossible. Meet with people or encourage guest/employee interaction with virtual video messaging or a chat lounge.
Ensure Attendance and Show Your Thanks
Send regular reminders, particularly in the weeks and days before your virtual meeting, rewarding invitees with a special treat. Help your employees feel connected and as part of the team despite social distancing, distributing helpful promotional items pre-meeting, or give your event an exclusive air, ensuring attendance with custom, post-event swag bags for attending guests.
Pacific Color Graphics offers a variety of quarantine gifts and unique promotional accessories. Our design team can help you choose the items that best reflect your brand or event from our thousands of premium products, creating a personalized gift collection for virtual conference attendees.
Don't let the coronavirus cramp your event style. Make a lasting impression, ensuring a successful virtual event with help from the Pacific Color Graphics team. Request a quote for an eye-catching display and coordinating promotional items for your upcoming event or contact us at 888-551-1482 to learn more today.