Storefront Signage That Fires the Curiosity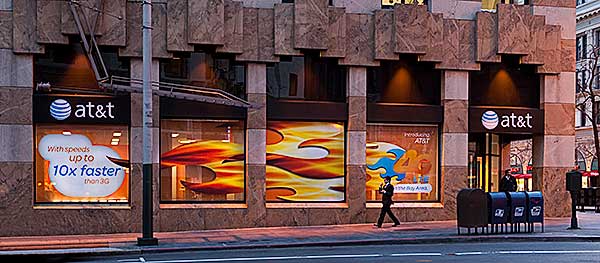 Has a sign in the window of a store ever compelled you to go inside?
Many people, without thinking much about it, have decided to check out a store because a sign fired their curiosity. The fact is, well-executed signage brings people into stores.
Truly effective storefront signage can even play a role in converting people into long-term customers.
For brick-and-mortar retail businesses, getting people to walk through the door is a priority. Today, we place much emphasis on marketing via social media to generate foot traffic, while the power of storefront signage is sometimes overlooked.
Storefront Signage Done the Right Way
The team at Pacific Color Graphics stresses the importance of including storefront signage as an element in an overall marketing strategy. Modern grand format printing technology enables us to produce large banners with amazingly sharp images and vibrant colors.
A few tips for businesses who are considering upgrading their storefront signs:
It's better to implement fewer large signs that communicate simple ideas and use white space effectively. Posting many small signs or cluttering a sizable banner with too much information can overwhelm or confuse consumers.
Use typography to your advantage. Pacific Color Graphics designers have an enormous range of fonts at their disposal. Skillful variation of the text size and weight of typography enhances the visual appeal of a sign.
Strategic placement of signs inside the store serves to direct people, who were initially attracted to an outdoor sign, to a specific brand or offer.
Use colors that contrast – a sign with predominantly red text or images will pop when placed on a white background. Also, avoid placing signs in areas that contain similar colors. A blue sign mounted on a blue wall is tough to see.
Contact Us to Learn More about Grand-Format Banners
Combined with slogans and messages that draw attention to special offers or products, storefront signage can be a cost-effective, long-lasting marketing investment.
Pacific Color Graphics offers custom banner printing expertise and prices that fit your budget. Our professionals are eager to sit down with you to discuss your ideas for storefront signage, and offer a few of our own.
Call 888-551-1482 today to schedule an appointment.
Our clients work and thrive in these areas and throughout the US:
| | | | |
| --- | --- | --- | --- |
| California: | | | |
| Burlingame | Modesto | San Francisco | Tracy |
| Danville | Mountain View | San Jose | Union City |
| Foster City | Oakland | San Leandro | Walnut Creek |
| Fremont | Palo Alto | San Ramon | |
| Hayward | Pleasanton | Silicon Valley | |
| Livermore | Redwood City | Sunnyvale | |
| | | | |
| Arizona: | | | Nevada: |
| Chandler | Paradise Valley | Surprise | Henderson |
| Gilbert | Peoria | Tempe | Las Vegas |
| Goodyear | Phoenix | | |
| Mesa | Sun City | | |