We'll Set Up and Manage Your Own Online Company Store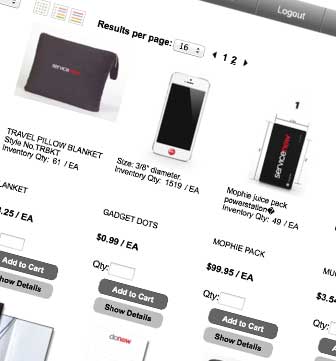 Need an efficient way to handle requests and distribution of promotional items, printed brochures, and tradeshow materials? An internal online company store handles it all…and we can even help you manage it!
Our team will create a user-friendly online company store that enables your employees to quickly order and send all types of items that promote your business. We can design the look and feel of the store to reflect your brands and match the style of your website. Because it's Internet-based, the store is always available to your employees, wherever they are.
Pacific Color Graphics performs digital printing and marketing services for a long list of well-known businesses such as Sega, AT&T and EA, along with innumerable smaller companies too. We're adept at partnering with your marketing department or working independently on projects that raise the visibility of your products. Need consistency? We'll even produce and print the materials for you — high quality, high or low volume — no problem.
A Pacific Color Graphics customer representative can explain how an online company store strongly reinforces your marketing strategies. We can answer all your questions about cost, store capabilities, and how it operates.
Call us today to get started at 888-551-1482 .
The Benefits of An Online Company Store to Your Business
Here are just a few of the many ways a well-designed online company store from Pacific Color Graphics helps your business:
Brand management. You decide what your online company store offers, enabling greater control over how marketing items are used. Promotional items, trade show merchandise, or clothing items are just a few of the many types of goods that can be easily placed in an online inventory.
More efficient employees. An online company store is highly cost-effective. Employees find it easy to use and are spared the burden of packing and mailing boxes.
Tracking capabilities. Everything can be tracked — how much is being spent, the popularity of particular items, shipping times, which employees and department are doing the buying. You can get up-to-the-minute reports any time.
Call Pacific Color Graphics today at 881-551-1482. Let us show you how an online company store can help your employees efficiently market your business and contain costs at the same time! We serve clients throughout the Bay Area and across the US.