Point of Purchase Display Design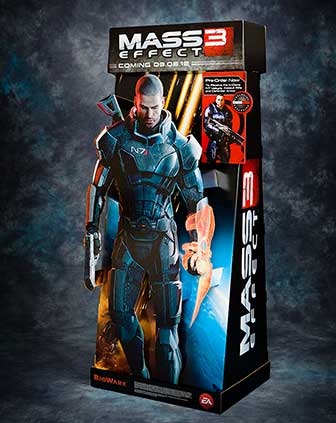 High-quality point-of-purchase display design becomes more critically important as competition for consumers' attention intensifies.
Yankelovich, Inc., a renowned marketing research firm, estimates that the average city dweller is exposed to more than 5,000 ad messages daily.
Pacific Color Graphics, a full-service digital design company, creates innovative point-of-purchase display designs that grab the collective eye of a target audience, instantly conveying the value of a product or service.
Our point-of-purchase display designs also establish the identity that sets a business apart from competitors. In the ad-savvy market of the San Francisco Bay Area, a distinctive appearance for a brand and product is an absolute requirement to stand out in a crowd.
The team at Pacific Color Graphics understands sophisticated Silicon Valley businesses and their customers. We have more than 20 years of experience in providing point-of-sale and point-of-purchase printing displays that effectively communicate corporate messages to the public.
Call us today at 881-551-1482 or 925-600-3006, or tell us your point-of-purchase display design and printing needs via email. Ask us about the supporting services we provide, such as digital signage, distribution, trade show signage and setups, or other innovative solutions.
Categories of Point of Purchase Display Designs
Some of the most common types of point-of-purchase display designs in Pacific Color Graphics' portfolio:
Temporary freestanding floor displays. Typically used for seasonal campaigns or special promotions of a new product and intended to be used for less than six months. They are often printed on converted corrugated board, foam core or vinyl and allow products to be displayed apart from other store inventory
PDQ trays and counter display units. Easy-to-assemble displays for stores that can separate your product even on a crowded store shelf.
End cap and pallet displays. Used at the ends of aisles. Big-box retailers generally use pallet displays to display and sell high-volume products.
Electronic displays. Our team can easily incorporate electronics into your point-of-purchase display with creative presentation and illumination.
Begin a point of purchase display discussion with a call to a Pacific Color Graphics service representative today. Our numbers are 881-551-1482, or 925-600-3006 in the San Francisco Bay area, including Oakland, Pleasanton, San Jose, Palo Alto and Walnut Creek.
Our clients work and thrive in these areas and throughout the US:
| | | | |
| --- | --- | --- | --- |
| California: | | | |
| Burlingame | Modesto | San Francisco | Tracy |
| Danville | Mountain View | San Jose | Union City |
| Foster City | Oakland | San Leandro | Walnut Creek |
| Fremont | Palo Alto | San Ramon | |
| Hayward | Pleasanton | Silicon Valley | |
| Livermore | Redwood City | Sunnyvale | |
| | | | |
| Arizona: | | | Nevada: |
| Chandler | Paradise Valley | Surprise | Henderson |
| Gilbert | Peoria | Tempe | Las Vegas |
| Goodyear | Phoenix | | |
| Mesa | Sun City | | |