Attention-Grabbing Outdoor Advertising Design and Printing
Attention-Grabbing Outdoor Advertising Design and Printing
Outdoor advertising design and printing is as important as ever to creative, competitive companies.
An online presence is practically required in today's marketplace. But the savvy company uses a diversified approach, including sophisticated usage of printed materials to communicate its brand message to the public.
Outdoor advertising design and printing by Pacific Color Graphics can powerfully reinforce messages delivered through other marketing channels and strengthen your brand using a method that competitors often ignore.
Pacific Color Graphics, a full-service commercial printer, provides outdoor advertising design and printing services that are creative and infused with a profound understanding of how business — particularly your business — works, and how customers think.
Let's discuss how outdoor advertising design and printing fits into your company's marketing strategy. Schedule a face-to-face meeting with a Pacific Color Graphics representative today at 888-551-1482 , or email us your thoughts and we'll get right back to you.
Outdoor Advertising Design and Printing That Goes Anywhere
Grand-format printing, a specialty of Pacific Color Graphics, is the foundation of effective outdoor advertising design and printing. We use state-of-the-art printing technology that is capable of vivid multi-color printing on all types of media that is durable and stands up to harsh weather.
Banner signage is a typical example of outdoor advertising design and printing. Over several months, an effective banner will draw millions of views from drivers, pedestrians or shoppers, easily equal to an online ad.
In addition to banners, Pacific Color Graphics is capable of producing compelling signage of all shapes and sizes. Our work can be seen in these locations throughout the Bay Area:
Bus stops and transit centers. How would you like a sign that is seen every day by thousands of commuters?
Ballparks and arenas. Our signage at AT&T Park is not only seen by millions of fans each year, but gets serious TV time as well.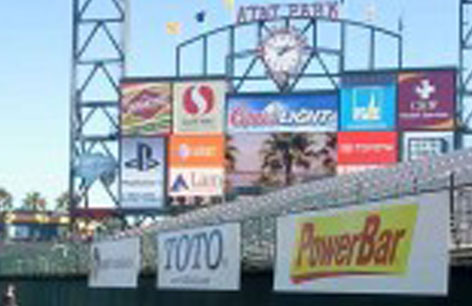 Storefronts. Creative outdoor advertising design and printing draws potential customers into stores and shopping centers.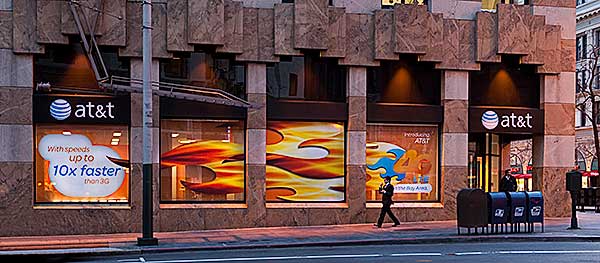 Buildings. Virtually any structure can be a backdrop for your message.
Call Pacific Color Graphics today at 888-551-1482 to learn more about our grand-format printing capabilities. We are conveniently located near our clients in San Francisco, Santa Clara, San Jose, Palo Alto, Mountain View, and other communities throughout the Silicon Valley.