Custom Banner Printing Services, For Dramatic Impact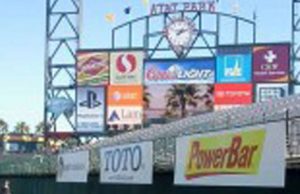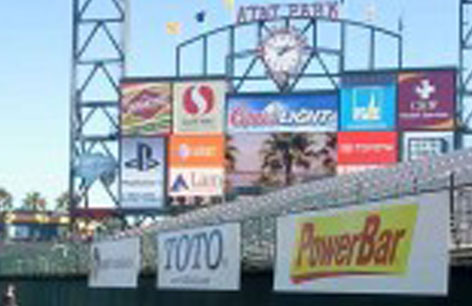 Envision the impact of large-format, custom banner printing on your business:
Your banner ad is attached to a wall inside a stadium where a sporting event is being held. The ad, which displays striking graphics and colors, is close to the action on the field. The crowd of people attending the event, virtually a captive audience, is exposed to your logo and branding message for several hours.
Real-life examples of brilliant large-format banners created by the Pacific Color Graphics team hang near the scoreboard at AT&T Park in San Francisco.
Compare the impact of those banners to an internet pop-up ad, which is tiny and may annoy your intended target audience. In the realm of signage, bigger is often better.
In this age of digital marketing, custom banner printing services are relatively inexpensive, versatile, and an ideal option for companies looking to take existing campaigns in new directions.
Pacific Color Graphics designs and produces grand-format banners that have a dramatic effect in strategic locations such as arenas, stadiums, roadsides, or even hanging from the sides of buildings.
High-Tech Allows Us to Print Almost Any Type of Banner
In recent years, technology has fueled the popularity of custom banner printing.
At Pacific Color Graphics' Pleasanton plant, our designers are capable of recreating graphics in great detail and vivid, crisp colors on large-format printing machines. State-of-the-art digital equipment such as our Agfa Graphics Jeti 3020 Titan UV flatbed printer widens the palette for our designers.
The ability to print on a wide range of materials is another benefit of technological advances. You can choose the material that best fits your budget and marketing goals.
Premium vinyl is durable and well suited for outdoor display over long periods. Foam boards are commonly used indoors – at trade shows, for example. Mesh fabric stands up well in windy conditions.
Put Pacific Color Graphics' custom banner printing services to work for your company. Learn more – call 888-551-1482 today or contact us online to speak to one of our knowledgeable professionals.
Our clients work and thrive in these areas and throughout the US:
| | | | |
| --- | --- | --- | --- |
| California: | | | |
| Burlingame | Modesto | San Francisco | Tracy |
| Danville | Mountain View | San Jose | Union City |
| Foster City | Oakland | San Leandro | Walnut Creek |
| Fremont | Palo Alto | San Ramon | |
| Hayward | Pleasanton | Silicon Valley | |
| Livermore | Redwood City | Sunnyvale | |
| | | | |
| Arizona: | | | Nevada: |
| Chandler | Paradise Valley | Surprise | Henderson |
| Gilbert | Peoria | Tempe | Las Vegas |
| Goodyear | Phoenix | | |
| Mesa | Sun City | | |