WE SET UP AND MANAGE YOUR EMPLOYEE STORE SOFTWARE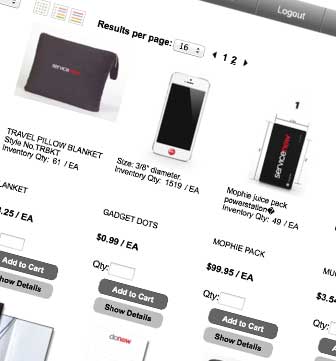 Online, Internal Stores for Employees, Franchises, Associates
Great for Branded Promotional Items!
Don't put off setting up your employee store software any longer. The professionals at Pacific Color Graphics can help turn your vision of an employee store into a fully-functioning, powerful brand-promoting tool for employees, associates, or members of your franchise organization to purchase branded products, trade show materials, and promotional items.
Count on our staff to build a web employee store equipped with features aimed at making workers more productive and their jobs easier. Utilizing user-friendly interfaces, your employees have online access to an easily controlled inventory of products marked with your logo or slogan — branded apparel, gifts, office supplies,  signage,  tradeshow materials, sports items, anything you wish.
Select, order, and ship promotional products for virtually any type of marketing with customized employee store software installed by Pacific Color Graphics. With our expertise, organizing trade shows, planning corporate events, or putting together special giveaways is simple and cost-efficient.
Call Pacific Color Graphics today at 888-551-1482 to learn more about how we help you to use employee store software and management to bolster your marketing efforts.
CALL US FOR EMPLOYEE STORE SOFTWARE AND MANAGEMENT
What do you want your web employee store to be? The Pacific Color Graphics team gives your intranet-based employee store all these features, and more:
Flexibility. We can incorporate several highly secure methods of payment and employee incentive or recognition programs such as coupons or points systems. Expand your online inventory or upgrade functionality any time you choose.
Expert management. No need to dedicate one of your employees to run the intra-employee store. Our staff manages every aspect of it for you, including fulfillment services that ensure prompt handling and shipping of every order.
Customization. No bland "canned" look for your intra employee store — it should be unique to your business. Our team can tailor your web employee store to match the look and feel of your business and its marketing materials.
The Pacific Color Graphics team makes it simpler and more affordable than you think to launch your web employee store. Call us today at 888-551-1482 for more information on employee store software and management services.